I was referred to Au Pied de Cochon by one of our favourite wine stores Highlander Wine & Spirits. It was no coincidence — it seemed whenever I asked a Montrealer for restaurant recommendations, Au Pied de Cochon was the first place mentioned. After reading a few reviews and checking out their menu, I was on the phone making reservations. They were booked solid for a week. After two phone calls, they had a cancellation and I was in. Luckily, I was able to dine the day before my flight back to Calgary. I had a three-day build-up fantasizing over my meal — I already knew what I was ordering.
When the much-anticipated evening arrived, we strolled down Duluth in the ultra-hip Plateau neighbourhood and noticed a cute little restaurant. As we looked for a name, that was nowhere to be seen, we realized this was the restaurant. Once seated at our table, we perused the menu. However, seeing all the delicious food coming out of the kitchen, my pre-planned order was out the window — I wanted everything on the menu!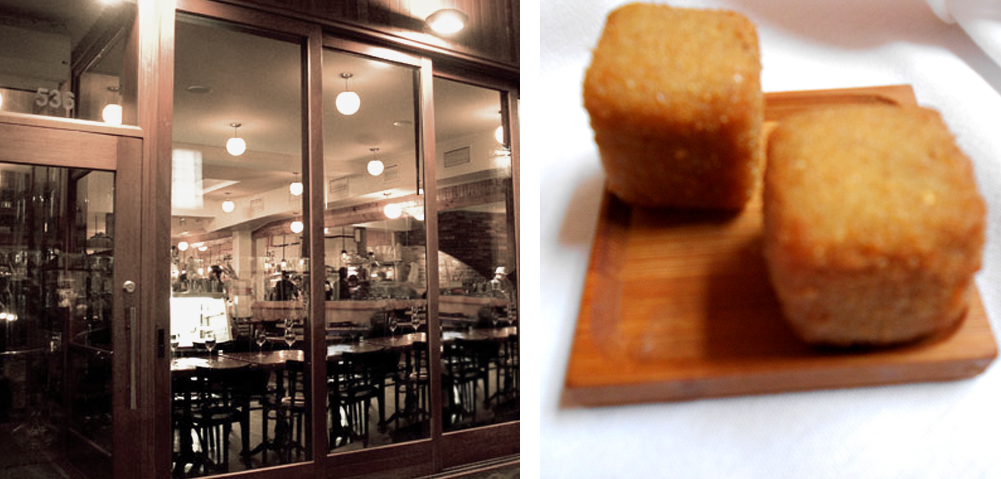 Chef Martin Picard has come up with a creative twist on classic Québécois foods, such as adding foie gras to poutine. Seriously, when I read poutine au foie gras on the menu, I must have thought about that for a good two minutes. Would the rich savoury flavors of foie gras come through the gravy and cheese? … I suppose some things are left to the experts.
With a boundless range of choices — from starters such as cromesquis de foie gras, to freshly caught fish of the day, to poached and stuffed pied de cochon roasted in a wood oven, and desserts such as tarte au sucre pour deux, the food is rich with gluttonous portions that are worth every penny. The unassuming, warmly casual, yet attentive service makes this a place to return to.
We enjoyed the cromesquis de foie gras, the tartare de boeuf en cornet, and salade de bleu, pommes, and endives.