Whether foodie, epicurean, grill master, or chocolate lover there are last minute gifts for all at Calgary's Market 17. Here's a look at what we're salivating over — items that are definitely on Luxe Lust's luxe list:
Perfect Stocking Stuffer: Bovetti Chocolate Bars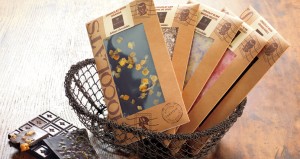 Bovetti of France takes great pride in producing their quality chocolate. Proprietor Valter Bovetti makes frequent trips to the cocoa-producing countries, to ensure his understanding of regional conditions and to procure a superior raw product. Bovetti chocolate is fair trade and made with pure cocoa butter, without any vegetable fat added. Available in dark, milk, and white, with such robust flavour additions as Earl Grey tea, coffee beans, or hazelnuts, these beautifully packaged 100-gram chocolate bars are available for $7.69 each.
Baking Essential: Enjoy Life Chocolate Chips
Still trying to get in that last minute batch of baking? Rush to Market 17 and select either Enjoy Life Chocolate Chips or Chocolate Chunks. Both are made from premium cocoa and are vegan, kosher, and nut-, gluten-, dairy-, soy-, and casein-free. On sale through December 2011, $3.99/283-gram package (regular $5.39).
New Year's Eve Hostess Gift: Drogheria & Alimentari Balsamic Glaze
Drogheria & Alimentari has its roots in 19th-century Florence as spice merchants. Still purveyors of spices today, they also produce fine sauces, and glazes. Drogheria & Alimentari's Balsamic Glazes begin with the finest vinegar of Modena, which is reduced to a luscious syrup. Enjoy a selection of five balsamic glazes from Market 17, with flavours including classic, raspberry, orange, fig, and berry. We can't wait to try the balsamic fig glaze over an oven-roasted pork tenderloin. 150 ml for $10.59.
Market 17
Discover the thoughtful selections of Market 17, at their convenient central location, right on 17th Avenue at 24 St SW. With plenty of underground and street parking, you'll easily find those last minute gifts (and likely pick up a few things for yourself along the way).
403.685.4410
Regular Hours
Monday–Saturday: 9am – 8pm
Sunday: 10am – 6pm
2011 Holiday Hours
December 24: 9–5, December 25: Closed, December 26: Closed, December 27–30: 10–6, December 31: 9–5, January 1: Closed
Post sponsored by Market 17.