We had a lot of fun making holiday gift baskets. We found these apple baskets at Michaels, and they pretty much set the theme. We used mason jars, purchased at any grocery store in Calgary, and a heritage-style decorative corner paper punch for our homemade tags purchased at an arts and crafts store. In these baskets we included Caramel Corn, Spiced Pecans, Mango Pumpkin Seed Granola, and Hot Cocoa Mix.
The wonderful thing about these holiday gift baskets is you can have them pre-made and give them out throughout December. Or, by varying the items and decorations, these baskets can easily become gifts suited for year-round giving.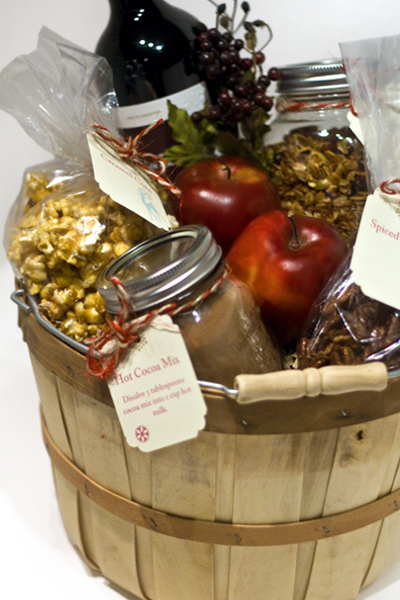 Components

Hot Cocoa Mix
Caramel Corn
Spiced Pecans
Mango and Pumpkin Seed Granola
Decorative corner paper punch
Bottle of wine
Basket
Twine
2 apples
Recycled crinkle-cut packing paper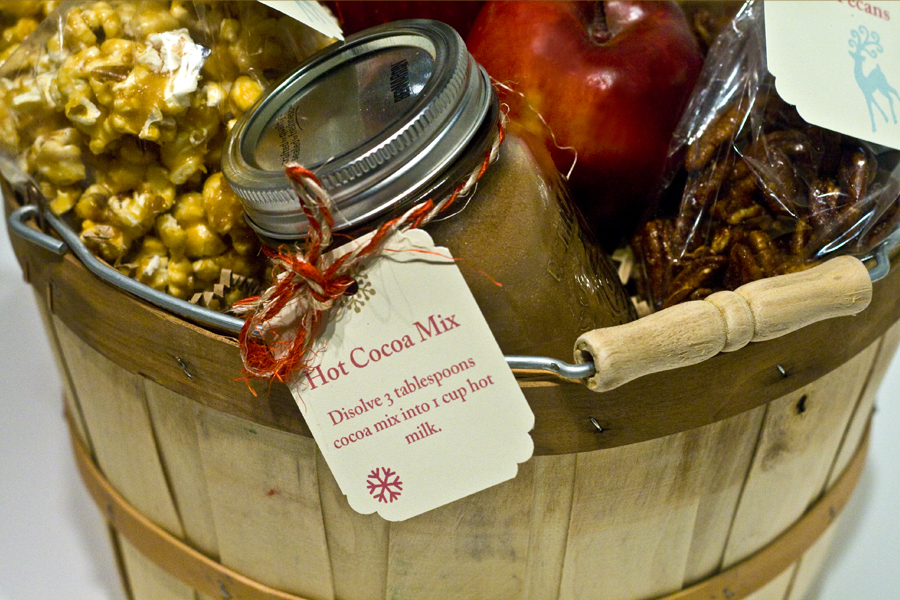 Assembly

Use crumpled newspaper to fill the bottom of the basket, in order to make your items more visible when they rest on top. Cover the newspaper with crinkle-cut paper to create a rustic, yet decorative base for your items.

We labelled our mason jars with homemade tags, which we designed with Christmas motifs on the computer, and printed with an inkjet printer onto card stock. A decorative paper punch created the scalloped effect at the corners. These tags were then secured with two-coloured twine around the jars.

Set your items in the prepared baskets, placing smaller items in front, and larger items in back. We used apples as an edible decoration, but you could substitute almost any fruit (pomegranates or citrus would look nice), or a few pine cones collected from your yard.