Casel Marché has been on our radar for some time, so when we were invited to one of their Interactive Monday events, we of course jumped at the chance. Interactive Monday showcases some of the fine boutiques at Casel Marché in the form of an intimate and interactive dinner.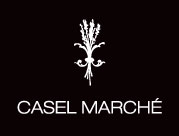 The evening began with an informal wine tasting at J. Webb Wine Merchant where Joel Goralski of Niklas Group (developers of the Casel building) introduced himself as our host for the evening. The fine staff of J. Webb poured a selection of wines and expertly explained their qualities.
Our evening progressed on to a tour of Market 17, which focuses on fresh, locally grown, organic produce and meats. We met chief grocer Alan and were assured no matter what ingredient we were seeking, Alan could order it.
Moving on to the Cassis Bistro space (Cassis is closed on Mondays), we were excited to learn who our chefs for the evening were.  It turned out that we were in for quite a treat as none other than Chef Thierry Meret and Pastry Chef Marnie Fudge of Cuisine et Château were in back preparing what would be an incredible meal.
Our menu for the evening, featuring ingredients from Market 17:

Roulade of smoked salmon; butternut squash crostini
Herb salad with yellow sweet tomatoes, roasted walnuts accompanied by St Raymond ash-covered goat cheese
Sunworks Farm certified organic chicken, parmesan gnocchi, Sunworks Moroccan chicken sausage, market vegetables
Poached pear en robe de chambre, vanilla crème Anglaise, chocolate caramel

Wines from J. Webb:

2010 Saumur Blanc
2009 Subilaux Bordeaux
Twelve of us sat down at a long family-style table and introduced ourselves as we tucked into the salmon and squash amuse-bouche. As the sumptuous, yet casual, meal progressed we all got to know each other. Tales of food and travels were exchanged, providing the perfect opportunity for Marnie of Cuisine et Château to tell us about their culinary tours to the Périgord region of France featuring cooking lessons, all while living in a luxury French château.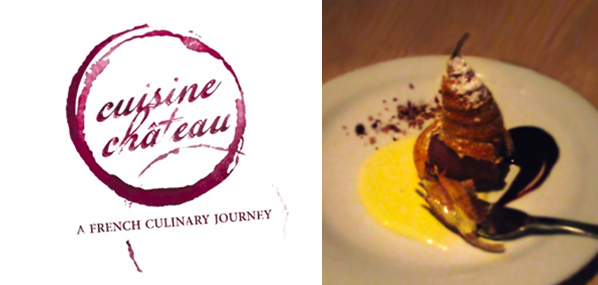 This was probably the most fun we've had on a Monday, and are so thankful to have been invited. If you haven't explored Casel Marché yet, you're missing out! We've since been back many times and love stopping by for a quick lunch at Cassis, then grabbing groceries and wine for an evening meal at home.
Thanks to Joel for inviting us, and of course to Thierry and Marnie for the great eats!
Find these businesses on Twitter: