It's no secret that men's fashion is big business, and the recent London Collections: Men (London's men's fashion week) proved that the future for menswear is brighter and stronger than ever. Heavy-hitting names packed the three day schedule, including an opening party Thursday evening hosted by HRH The Prince of Wales, a dinner with Tom Ford, drinks with David Gandy at Saville Row, a private Q&A at BAFTA with Sir Paul Smith and world-famous fashion editor Suzy Menkes and, of course, a star-studded catwalk show featuring everyone from TOPMAN, to Richard James, Mr.Start, Sibling, J.W. Anderson, Liberty London, Hardy Aimes and many more.
Refreshingly laid back, effortlessly cool, and full of class, it was no surprise that from the very start London Collections: Men would be a tremendous success. The dedicated menswear event created by GQ's Dylan Jones and the British Fashion Council was the first time running and left a lot to live up to in the future years to come, not only for its outstanding show line-up and orgainization but for the pure and simple vibe throughout.
Showcasing fashion through a man's eyes, with no attitude or style posing attached, proved a success at making the clothes and designers shine. People celebrated the industry without any pretense — quite different from London Fashion Week when all the female claws seem to come out!
Lack of snobbery, however, did not take away from the scene-stealing style the men put forth daily. The gents consistently pulled out all the stops with impeccable tailoring, expert layering, and colour popping accessories, confirming London's place as a worldwide fashion destination for both sexes. Us women will have to watch out.
Here's a look at some of the favoured trends, shot from the streets:
Cropped Trousers 
Marits Roberts in a vintage Burton jacket with J.Lindeberg shoes
during London men's fashion week
Steven in a jacket by Our Legacy
paired with a bag by WANT Les essentiels de la vie
Tailoring
Men outside Savile Row Evening at Burlington Arcade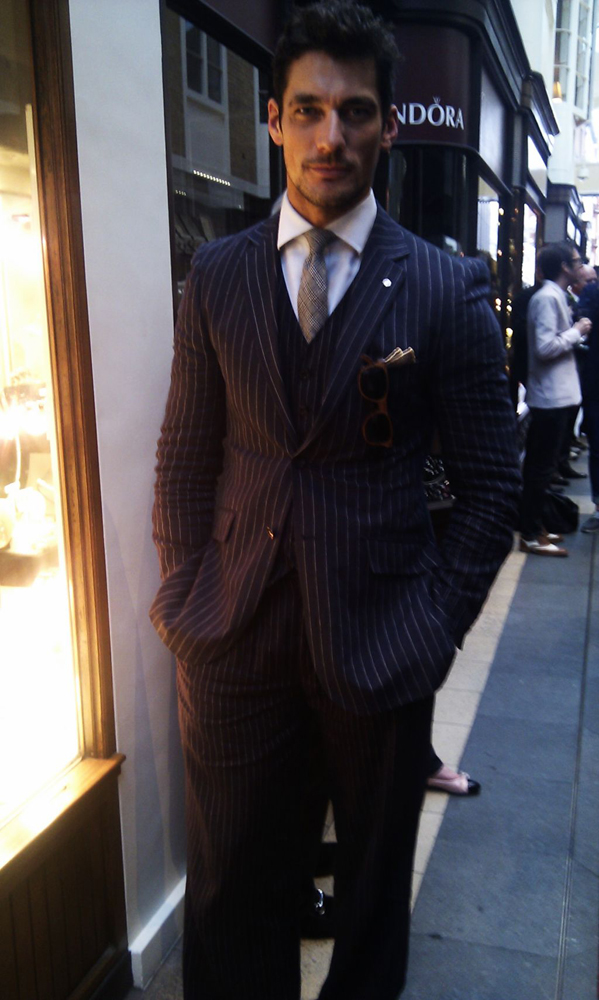 David Gandy at Savile Row Evening at Burlington Arcade
Playing with Print
George, Naoki, and Poggy — designers of United Arrows, all wearing United Arrows
Blogger/Designer Callum Watt wearing a shirt by Vivienne Westwood
and accessories by Topshop, Vivienne Westwood and his own design
Contemporary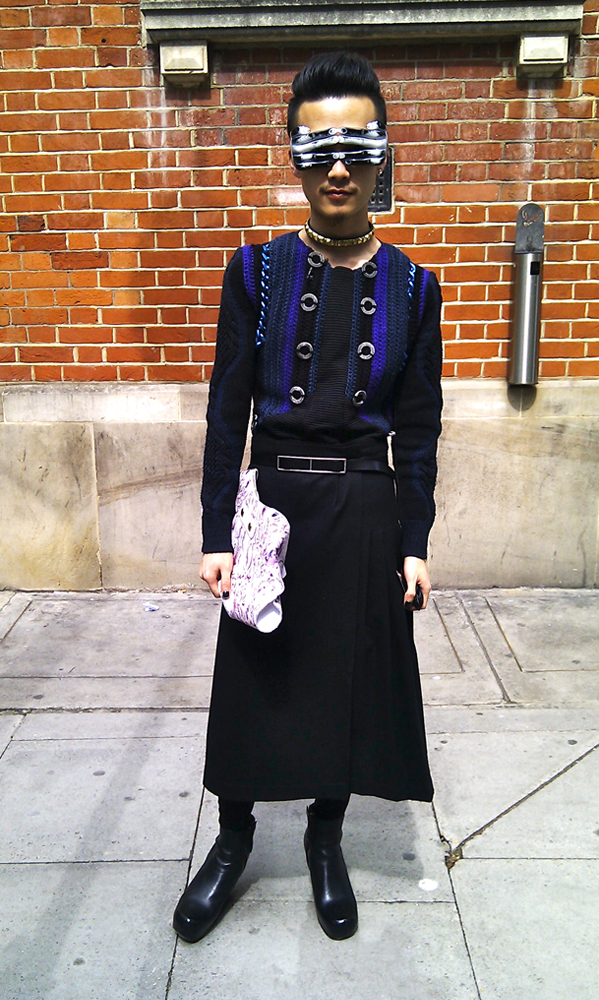 Fashion Editor Lawrence Lau in a Versace top
with boots by Rick Owens
Didier, a former model for Yoji Yamamoto,
in a jacket by Raf Simons and shoes by Jil Sander
Grunge
Stylist Ben Schofield in trousers by KTZ  and a Vintage top
Accessorise
Jason Alexander Basson in a lobster bowtie by Dokter & Missues
Jason Alexander Basson in a lobster bowtie by Dokter & Missues
Kubo wearing a top by Alex Mattison with trousers by Casette Playa
and customized Nikes from a Tokyo designer 
Kubo wearing a top by Alex Mattison with trousers by Casette Playa
and Customised Nike from a Tokyo designer 
Suited and Booted
Arthur Malan-Murison, Creative Fashion Director, "GQ South Africa"; Editor, "GQ Style South Africa"; Editor, "Eyeofneedle" wearing Tiger of Sweden with accessories by V&A.
Jenico Preston, Head of Sponsorship for the British Fashion Council
wearing suit and shoes by Mr. Start 
Daniel Alexsis in a jacket by Calvin Klein and shoes by COS
Expert Layering
Martel Campbell in a waistcoat by Paul Smith
with a bowtie by D-Lyle and shoes by Ben Sherman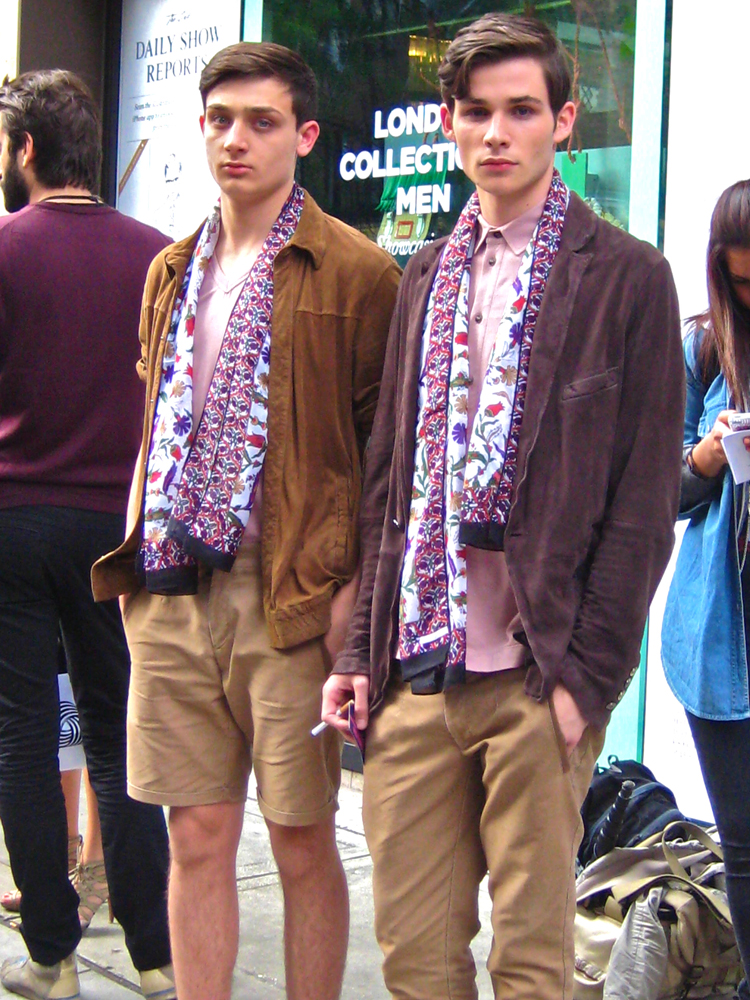 Alister & Alex of Elite Models wearing head to toe Serdar Uzuntas   
Tracy Kawalik is a London-based fashion writer and stylist. She has contributed to many UK and international publications and is a regular correspondent at London Fashion Week. Styling work includes pop-up shops and events with some of London's most prominent designers and venues along with television and editorial.
Other posts by Tracy Kawalik on Luxe Lust.
You can also find Tracy on Twitter and at her blog.