There were more sequins, dip dyed hair, live digital feeds and overstyled Topshop pieces than you could have imagined, as London's fashion fierce took to the street to pose their way through yet another London Fashion Week. This season was full of flash with designers turning out creative, commercially viable collections alongside wild conversation pieces that were sure to  grab the attention of the swarms of press, stylists and photographers which seemed to sweep down on Somerset House.
Crowds of snap happy bloggers and style spotters lined the entrance of Somerset House where stylists, fashion editors, and all creatures great and small eagerly entered the main court…some giving masterclasses in style and faultless grooming while others looked as though they put on a piece from every Halloween costume they ever owned!
The designers likewise pulled out all the stops. There were live streams from nearly every catwalk, fashion films,installations, pre parties, after parties, political statements and at the heart of it all that undeniable edge and talent that only the British do best!
Leading London lads Christopher Kane, Giles, Henry Holland, Ashish and Meadham Kirchhoff filled the headlines with their polished, playful and innovative collections while other Brits like megabrand Burberry showcased David Bailey's fearless nature to push boundaries and put on a fabulous show along with Mulberry who housed the most star studded front row of the entire fashion week including Olivia Palermo, Lana Del Rey, Anna Wintour and Kate Moss!
Newcomers  like shoe designer Sophia Webster and award winner Haizhen Wang very nearly stole the show with their seamless collections and beautifully designed lines that were sure to have filled the order books throughout their time at Somerset House. While second time presenters Sister by Sibling put together one of the most talked about and photographed collections proving why the brand is rapidly growing from strength to strength!
Wild child's Louise Gray, Vivienne Westwood, knitwear king Mark Fast, KTZ, and JW Anderson produced equally creative and colorful collections to wide critical acclaim. But none perhaps were as over the top, triumphant and jaw dropping as the catwalk presentation from master milliner Philip Treacy who not only filled his catwalk with all black models for the first time in history but with sky high hats in a collection entirely supported and inspired by Michael Jackson's wardrobe and introduced by Lady Gaga!
Harold Tillman chairman of The British Fashion Council passed down his reign at the end of the week to Net-A-Porter founder and billionaire Natalie Massenet who commented  "This London Fashion Week has once again been phenomenal; the British fashion industry today is a globally recognised power house." Power aside, one thing for sure the British designers certainly left a lot to live up to for next season.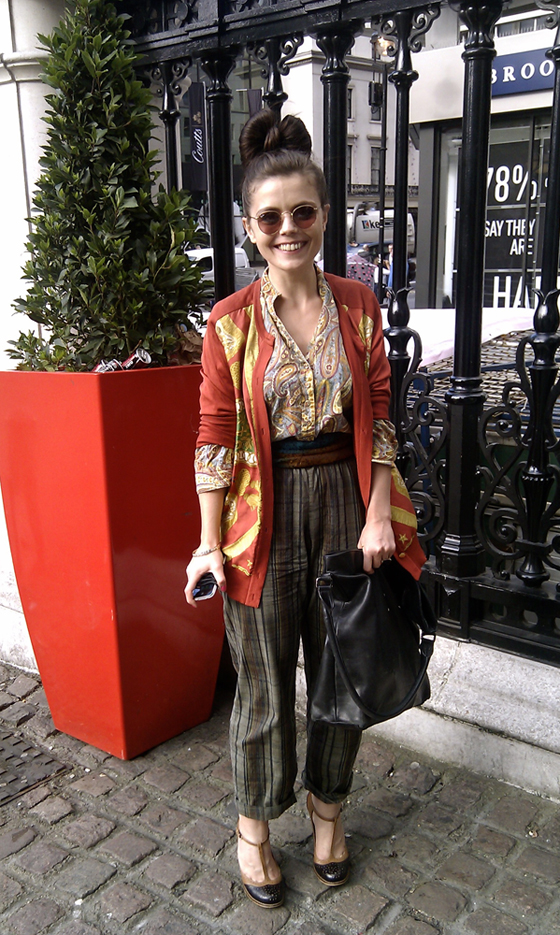 Silvia Micalizio Textile Designer wearing self styled bow tie in hair
Couture Collector/Multi-Millionaire / Fashion Icon
James Goldstein with Tracy Kawalik
Pink Sister by Sibling SS13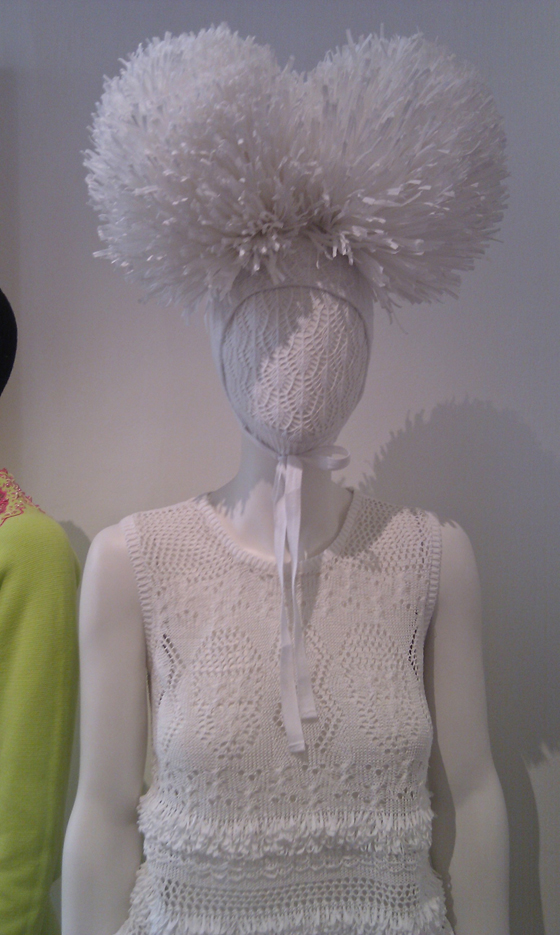 White Sister by Sibling SS13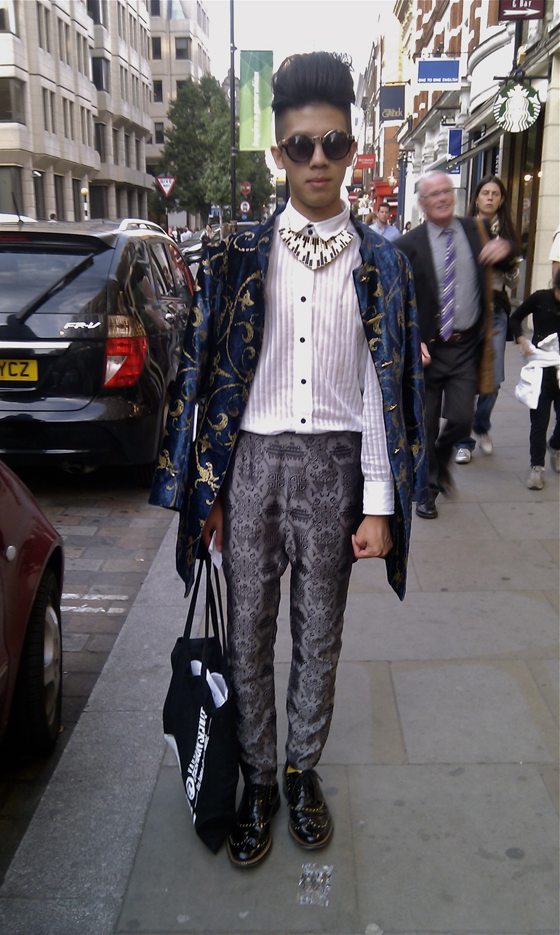 Toni Tran Between Shows: Street Fashion Blogger/Photographer 
Effortlessly Stylish Journalist outside Somerset House  (lost his business card)
Daniel Lismore Designer:Club Kid:Contributor for iD magazine
London Fashion Week February 2012
Mulberry Front Row – Featuring Lana Del Rey, Alexa Chung, Kate Moss
Burberry Final Line Up SS13
Giles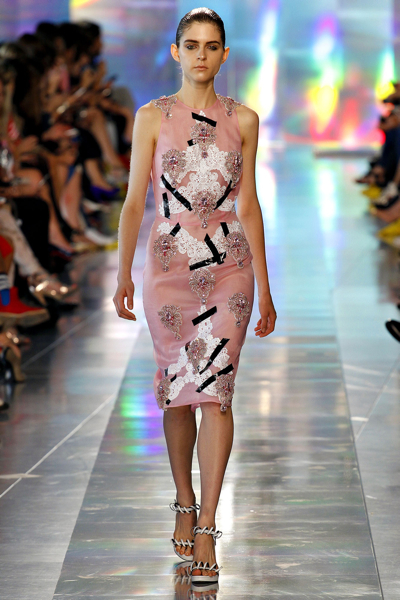 Christopher Kane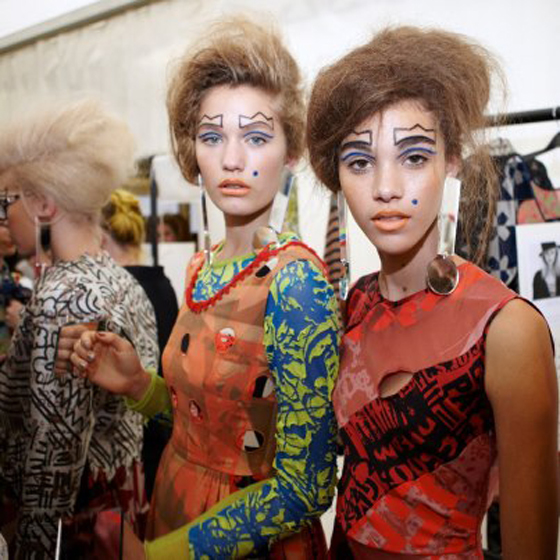 Louise Gray
Sophia Webster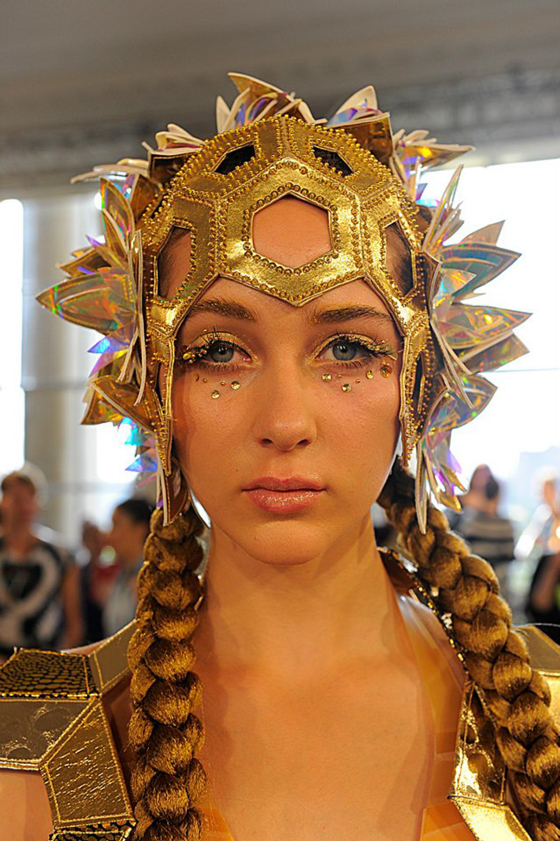 Fred Butler Headpiece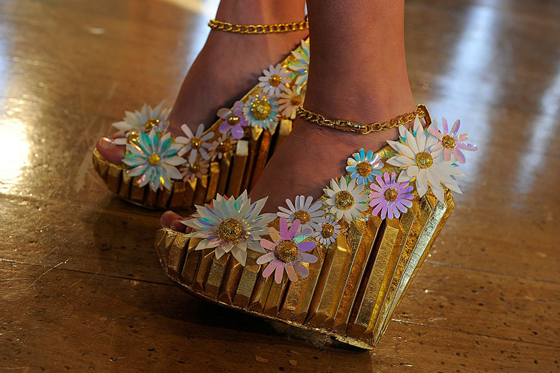 Fred Butler
Words by: 
Tracy Kawalik is a London-based fashion writer and stylist. She has contributed to many UK and international publications and is a regular correspondent for London Fashion Week. Styling work includes Pop-Up Shops and events with some of London's most prominent designers and venues along with television and editorial.
Other posts by Tracy Kawalik on Luxe Lust.
You can also find Tracy on Twitter and her blog.
 Images by: Tracy Kawalik, Catwalking.com, London Fashion Week, and Mulberry